ENROLL NOW FOR
60hr Yin Yoga 
Teacher Training
OCTOBER 14 - DECEMBER 16, 2022
This comprehensive training develops your own personal practice and lifestyle so that you can create and deliver impactful class sequences as a certified Yin Yoga Teacher.
Registration deadline is Friday, September 30  
Ottawa 60hr Yin Yoga Teacher Training Program
Part-time Weekday, In-Person Training in Ottawa
Our life-changing program is a right fit if you are:
interested in understanding the key fundamentals of Yin Yoga in order to develop your own personal practice
planning to teach Yin Yoga and want to develop your mindset, teaching skillset and business acumen so that you can share your passion with your community
seeking proper certification in Yin Yoga with a recognized Yoga Alliance approved program
looking to take Continuing Education Credits with an experienced lead trainer who is an Yoga Alliance Continuing Education Provider (YACEP)
interested in reviewing your lifestyle and integrating health-promoting habits for a transformational  way of being
ready to live your best life and inspire others to do so as well!
"The Yin Yoga program was very informative!
Great hands on practice.  I got to explore aspects of Yin Yoga that I was unaware of.  Thank you so much for this wonderful experience, it has truly changed my life!"
CHRYSTAL MULLIN
By the End of This Program,
you will know:
History & Philosophy
An overview of the origin & philosophy, of Yin yoga

The definition of yoga, Yin yoga, Yang yoga and meaning of the Yin/Yang symbol

Understand the r

elationship between




asana (poses), pranayama (breath techniques) and 

meditation

The essence of the Tao and key themes of the text, Tao Te Ching, by Lao Tzu

How yoga 

philosophy relates to




practice through your self-reflection

How to address Yin & Yang tissues of the body

The Theory of Exercise
Anatomy & Physiology
The anatomy basics of Yin yoga
How Yin yoga addresses the body differently than Yang yoga
The role of Yin yoga on the physical body (Muscles, Fascia, Bones, Joints)
The definition of connective tissue and its role in flexibility, stability, mobility and pain
The fountain of youth of Yin yoga - hydration of deep fascia
Yin and Yang of the nervous system - the affects of Yin yoga on the nervous system such as the 

'fight, flight, freeze' stress 

response, 'rest, digest, procreate' relaxation response, vagal theory and 

overall mind-body 

connection




Yin yoga for recovery and performance
Yoga Anatomy
The subtle anatomy of Yin yoga
Yogic anatomy and physiology (koshas, kundalini, chi, vayus, chakras)
Yin and Yang qualities
Meridian Theory & Energetics (Traditional Chinese Medicine, Five Element Theory, Zang and Fu Organ pairs, meridians, acupuncture & acupressure)
The mapping of emotions and their home Organ
Various breathing techniques (pranayama) and the effect of breath on anatomy and subtle body


How to practice and teach Yin poses integrating 

pranayama techniques such as Long Deep Breathing, Ujjayi and Orbiting Breath 

The application of bandhas (energy locks) to affect subtle energy
How to use mudras (hand positions) to channel energy
How to assess energetic needs and apply appropriate techniques
Yoga Asana (Poses)
How to practice and teach over 25 main Yin yoga poses

The 3 pillars of a Yin pose practice
How to practice and teach each pose safely by providing alignment cues, modifications and integrating with breath
How to use counter poses when coming out of a Yin pose
How to use props to make poses more accessible to differently abled bodies
The proper alignment principles of Yin yoga poses, contraindications and how to prevent injuries
How to categorize poses into the key asana groups and which meridians can be stimulated

How to analyze poses to understand their anatomical and energetic benefits




How to assess your own body's alignment needs and those of your class attendees
Meditation
How to explain the purpose and benefits of meditation
How to integrate the observer mind into the poses and practice mindfulness
How to setup and prepare for meditation
The use of breath, eye focus and mudras for meditation
How to practice a variety of meditations using silence, with and without mantra

How to develop your own meditation practice
How to effectively teach meditation
How to use a variety of mantras, the purpose and benefits of mantra and sound for your body, mind and spirit
Teaching Methodology
How to create a welcoming, sacred space for your class

The language of Yin (teacher cueing, student self-awareness, how to set intention and allow for inner work, the difference between teaching Yin and Hatha)


The art of sequencing a Yin yoga class in order to create a safe, effective and balanced class plan
How to create class themes for the season, for the meridians, or to target areas of the body
How to sequence your class for the audience you have in mind
How to use verbal and visual cueing when teaching
How to make effective use of music and sound to match the pace of your class and intention of each phase

How to manage your class from beginning to end

How to teach with your authentic voice
Personal Development & Self Care
Strategies for developing a daily personal yoga practice for self-assessment and customizing your plan and goals
Self-reflection and tools for personal growth using journaling & assignments relevant to the topics covered each class

How to improve your overall health using  Chi Vitality:

Digestion and elimination: their role with connective tissue, joint health and overall vitality

Healing with whole foods according to Traditional Chinese Medicine

The physiology of warming and cooling foods

Excess and deficiency (how to self-diagnose, identify symptoms, body-type)

Dietary recommendations for excess and deficiencies

Professional Development
How to convey the features and benefits of Yin yoga to your audience

How to identify your niche and ideal client

How to create your message to your ideal client

How to market and promote your classes

The value of staying connected with your peers and trainer for momentum, support and for continuing education
Practice Teaching
How to feel competent and confident from your experience of teaching your classmates the various components of a class: opening with mantra, pranayama, individual yoga poses, relaxation, meditation and closing with mantra
Draw from your experience of hosting your own 'friends & family' practicum class

How create your class sequences and have access to our library of class sequences available online 
How to use the feedback and suggestions from your mentor and peers

How to keep honing your skills with your accountability partner, peers and mentor

"Great course! What I enjoyed most was learning about the meridians, the Yin classes each morning and learning the difference between yin and yang. I learned so much and am excited to share my new knowledge with my future Yin yoga students!"

Nayeer Khourany Salem

October 2018 graduate

"I felt very comfortable and welcome at the Yoga & Tea Studio. A beautiful place to practice and learn. I enjoyed starting each day with a Yin practice, practicing the poses and being given class plans to practice."

Haley Bowes

October 2018 graduate

"Navjit Kaur was an exceptional guide and teacher who led us with her gentle ways of expressing the Yin Yoga practice. I most enjoyed experimenting with the yoga poses and the modifications, as well as the definition and explanation of Yin Yoga. It was a beautiful experience and I would highly recommend this training to everyone."

Mary Murphy

2017 graduate

"Navjit Kaur and the Yin Yoga program were very informative. Great hands on practice. I got to explore aspects of Yin Yoga that I was unaware of. Thank you so much for this wonderful experience, it has truly changed my life!"

Chystal Mullins

2017 graduate

"I enjoyed most the hands on approach to teaching, the time taken to adapt/modify the poses, the history, western & eastern views, meridians, TCM and Dao. Thank you! I am grateful for your teachings."

Nicole Lemieux

2017 graduate

"The content was delivered in a calm, well paced speed. The lessons really spoke to me. It has been an honour learning from you. Thank you for your kindness and for sharing your gift with us."

Basia Pawlikowski

2017 graduate

"Thank you for your depth of knowledge. You held a wonderful and supportive space for all to grow and share in."

Margie Hill

2016 graduate

"Navjit Kaur taught in a calm, knowledgeable, compassionate way and was very present to our needs. I most enjoyed the yogic view of energy and the mind/body/soul connection, learning all of the poses and attending the 90min Yin class sessions. Thank-you!"

Carol Martin

2016 graduate

"This course makes it easier to make my own practice broader, more meaningful and interesting. The course expanded my knowledge of yoga in such a way that I can make better use of it. You must become aware of the Yin aspects of yoga in order to make greater use of it."

Jack Watters

2016 graduate

"This course gave true insights into why and how Yin is so beneficial. I most enjoyed the material on the physical body, Chinese meridians, Daoism, meditation and the morning 90min yin class session. Your classes are wonderful, I like that we do few poses but verbal cues really help to deepen my experience. My practice will never be the same! Thank-you!"

Michelle Tilley

2016 graduate

"This Yin training program compliments Hatha Teacher Training perfectly."

Jenny Fowler

2016 graduate
It's All in the Details...
This program will give you a deeper appreciation of this much-needed yoga practice, and explain why it compliments other active yoga practices!
Become a mindful and confident Yin Yoga Practitioner & Teacher with this comprehensive yoga training program
Receive your certification to qualify for 60 Continuing Education Credits (CEU) with Yoga Alliance, enabling you to work your way towards the 500hr RYT certification
Train with our award-winning studio
Enjoy a low student to teacher ratio that will promote more individual attention and personal development
Learn at a comfortable pace with this 1 day a week program spread over 8 weeks (keep your weekends free!)
Train with our knowledgeable lead trainer, an expert in their field and over 15 years of experience in health & wellness
Receive an official Tuition and Enrolment Certificate (T2202) for Tuition and Education Tax Credits for personal or business tax purposes
Namaste!
My name is Navjit Kaur, and I'm the Lead Trainer (E-RYT 500, YACEP) and creator of this program. I've had the honour of training people like you to become a yoga teacher since 2012. 
My approach in this training is to provide you with the necessary experience of being a student of yoga first, to develop your personal yoga practice at home, so that you can then authentically teach from what you know, and understand the essence of yoga by going your own wins and challenges both on the mat and off.

I'm a mom, wife, Professional Engineer and Yogipreneur, so I understand what it's like to be pulled in so many directions, and is why I love sharing how these ancient yoga philosophy and techniques help you to deal with modern day issues relating to stress, health and relationships. 

My students describe me as having a great sense of humour, as being approachable, caring, inspiring,  an effective communicator, and super organized. My goal is to make this program accessible to varying fitness levels, to provide introspection and growth, an opportunity for you to heal, and be challenged to excel through your perceived blocks. 

I'm also certified as a Food For Life Cooking Instructor, by the Physician's Committee for Responsible Medicine (PCRM), and integrate into the program how plant-based diets can help to prevent and reverse illness. You'll learn many self-care techniques in this program to decrease inflammation and pain from your body so that you can move with more ease and flexibility.

Since 2005, I've taught well over 5000 hours and continue to deepen my own personal practice and the art of teaching by taking continuing education.

Your journey within begins with taking this first step and I look forward to welcoming you on this path!

Navjit Kaur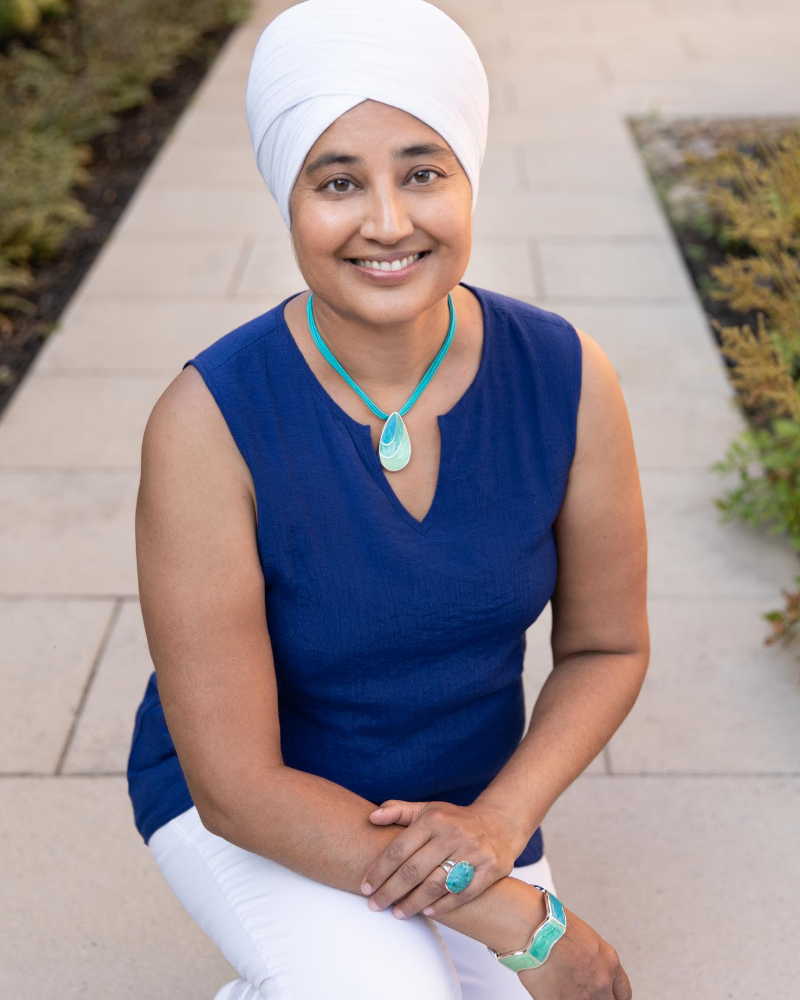 Registration is now open for our 60hr Yin Yoga Teacher Training Program!
Sign up to get early access to the program as we start accepting students into our highly anticipated program. 
Training Schedule
October 14 - December 16, 2022
The training program takes place on Fridays, from October to December - so you can keep our weekends free! 
This schedule format allows you learn at a comfortable pace, and provides more time to assimilate the theory, put it into personal practice and come prepared for the next day of training with your questions and observations.
The daily schedule will be presentations on philosophy, history, anatomy, poses and include guided practices, demonstrations, hands-on teaching and partner/group work. 
Training Day & Time:
9:00am - 5:00pm, Fridays
Daily Schedule:
| | |
| --- | --- |
| 9:00am-10:30am |  Yoga Practice  |
| 10:30am-11:00am |  Break |
| 11:00am - 12:30pm |  Lecture/Activity/Discussion |
| 12:30pm - 1:30pm |  Lunch Break |
| 1:30pm - 3:00pm |  Lecture/Activity/Discussion |
| 3:00pm-3:15pm | Break |
| 3:15pm - 5:00pm |  Lecture/Activity/Discussion |
Training Dates: Total of 8 days
October 14, 21, 28

November  4, 18
December 2, 9, 16
Training Curriculum
You will learn the following material during this training, in accordance with Yoga Alliance standards:
| | |
| --- | --- |
| Day 1    | Welcome & Intro to Yin Yoga |
| Day 2 | History & Philosophy of Yin Yoga |
| Day 3 | Anatomy & Physiology of Yin Yoga |
| Day 4 | Yoga Anatomy, Meridians, Acupressure Points & Chi |
| Day 5 | Yin Yoga Poses, Sequencing & Teaching Methodology |
| Day 6 |  continued... |
| Day 7 | Meditation & Sound |
| Day 8 | Personal & Professional Development |
Note: Exact timing of content and delivery may vary from shown table
Certification Requirements for Graduation
Full attendance of all in-person training dates (up to 10% of the program can be missed due to travel or illness; otherwise, absence exceeding this allowable time will have to be made up and there may be an extra fee)
Successful completion of quizzes and homework assignments

Yoga class practicum taught to family and friends
Yoga class practicum taught to peers in the training

When You Enroll in Our 60hr Yin Yoga Teacher Training
In this unique training you receive:
personalized attention in this low student to teacher ratio (10:1) class environment
experienced training from a lead trainer who has followed a yoga lifestyle for 15+ years
online office hours with your instructor to ask your questions and to get feedback
course manuals and carefully curated supplemental material you'll need as resources for your yoga journey
recap quizzes after each module to ensure that you have understood the material and content
access to your own Google Classroom account to submit your homework assignments and read teacher feedback
access to music playlists and artist recommendations to build your music repertoire for teaching yoga
knowledge of tools to build your yoga class sequences and scripts
peer accountability groups
an understanding of how to teach as your authentic self
PLUS
These Bonuses You Won't Find Anywhere Else
for the most enjoyable and memorable learning experience:
Bonus #1: Lunches Included
Yes, that's right! Let us take care of you - no need to figure out what to pack for lunch. That's 8 lunches taken care of!
Enjoy whole food, plant-based meals
Includes recipes for each meal
Experience a broad range of cuisine from around the world
Have some food allergies? Mention it on the in-take form and we can accommodate
Bonus #2: Life-time Access
You will have lifetime access to our invaluable training membership site, where you can view these incredible resources:
Recordings of yoga class sessions
Yoga class sequence pdfs
Recordings of how to teach individual yoga poses and warmups
Review of some course content
Recordings of office hours
Quizzes
Module summaries
Homework assignments
Music playlists
Recommended tools and resources
Bonus #3: Yoga Self-Care Kit
You'll be learning yogic self-care routines in this training, so we've included these essential body-mind goodies for you:
Gua Sha massage stone
Massage oil

Bonus #4: Trainee Discounts
Get 15% off all items* in our store, while you're a trainee in this program!
Stock up your yoga practice space with:
yoga accessories (mats, blocks, bolsters, cushions, blankets, eye pillows, etc)
books, CDs, diffusers, candles, artwork
ayurvedic products (oils, spice blends, herbs)
massage tools (*except MELT products)
Bonus #5: Yoga & Tea Swag Bag
Time to represent! Receive these awesome branded items:
Y&T tote bag
Y&T travel mug (hot/cold)
Y&T pen
and a complimentary 5 Flexible Class Pass! 
Save Your Spot & Get All The Above Bonuses!
Choose A Payment Option Below:
Register by Friday, September 30 and while spots are still left!
Questions Your Fellow Peers Asked
Before Signing Up For This Training
"Men are born soft and supple; dead, they are stiff and hard. Plants are born tender and pliant; dead they are brittle and dry. Thus whoever is stiff and inflexible is a disciple of death. Whoever is soft and yielding is a disciple of life. The hard and stiff will be broken. The soft and supple will prevail."
- Lao Tzu (Tao Te Ching)
Still Thinking About It? Have Some Questions?
Join Us For A Free Information Session
Stay In Touch! Join Our Mailing List
Sign up below to receive updates about this training & upcoming info sessions
We hate spam too. Unsubscribe at any time.