ENROLL NOW FOR
200hr Hatha Yoga 
Teacher Training
January 19 to  June 29, 2023
This comprehensive training develops your own personal yoga practice and lifestyle so that you can create and deliver impactful class sequences as a certified Hatha Yoga teacher.
 Registration deadline is Thursday, December 22
200hr Hatha Yoga Teacher Training Program
Part-time Weekday, In-Person Training in Ottawa
Our life-changing program is a right fit if you are:
interested in understanding the key fundamentals of classical Hatha Yoga in order to develop your own personal practice
planning to teach Hatha Yoga and want to develop your mindset, teaching skillset and business acumen so that you can share your passion with your community
seeking proper certification in Hatha Yoga with a recognized Yoga Alliance approved program and an experienced lead trainer (E-RYT 500) who is immersed in the teachings
interested in reviewing your lifestyle and integrating health-promoting habits for a transformational  way of being
ready to live your best life and inspire others to do so as well!
"I want to thank you so much for teaching me so well in the Hatha teacher program.
Tonight, I got some amazing news!

My yoga class last night has drawn 1083 views in 24 hours!!!!
So proud! 
Let me know when you are planning to do yin, restorative and Kundalini.
It seems I am pretty good at this. 
Maybe it is time to get the 500 RYT!

FYI,  I am now 21 lbs lighter and my pain is only 30% of what it used to be. I am living as a vegetarian and loving it!

Thank you for helping me to heal and get my life back!"
ELIZABETH HOCHSTER
By the End of This Program,
you will know:
History & Philosophy
An overview of the history, philosophy, and evolution of Yoga
Core yogic principles for living a fulfilling and balanced life

The definition of yoga, AUM, Hatha yoga and many other key terms of yoga

The 8 Limbs of Yoga through the study of Patanjali Sutras
Understand the r

elationship between




asana (poses), pranayama (breath techniques) and 

meditation

Key themes of the yogic 

texts: 

Bhagavad Gita, 

Upanishads, Hatha Yoga




Pradipika

How yoga 

philosophy relates to




practice through your self-reflection of the Yamas and Niyamas
Anatomy & Physiology
The 

'fight, flight, freeze' stress




response, vagal theory and 

overall mind-body 

connection



Anatomy for Yogis (cellular structure, the spine, Musculoskeletal system, Nervous system, Circulatory system, Respiratory system, Immune system, Endocrine system, Digestive system, Urinary system, Reproductive system)

How to identify the major bones, 

joints, muscles and types of muscle contraction 

involved in yoga poses and breathing 



An introductory overview of the Anatomy Trains model of fascial lines (Tom Myers)
Yoga Anatomy
Yogic anatomy and physiology (koshas, kundalini, prana, vayus, nadis, chakras)
Breathing techniques (pranayama) and the use of breath on anatomy and subtle body


How to practice and teach 

pranayama techniques such as Long Deep Breathing, 

Ujjayi, Nadi Shodhana,




Kapalabhati, and more

The application of bandhas (energy locks) to affect subtle energy
How to use mudras (hand positions) to channel energy
How to assess your own energetic needs and apply appropriate techniques
Yoga Asana (Poses)
How to practice and teach over 50 poses, plus warmups, and Sun Salutation A,B,C
The names of the above poses in English and the pronunciation in Sanskrit
How to practice and teach each pose safely by providing alignment cues and integrating movement with breath
How to use props to make poses more accessible to differently abled bodies
The proper alignment principles of poses, contraindications and how to prevent injuries
How to categorize poses into the key asana groups

How to analyze poses to understand their anatomical and energetic benefits




How to assess your own body's alignment needs and those of your class attendees
Meditation
How to explain the purpose and benefits of meditation
How to setup and prepare for meditation
The use of breath, eye focus and mudras for meditation
How to practice a variety of meditations using silence, with and without mantra, tratakum (gazing at an object), and with a mala

How to develop your own meditation practice
How to effectively teach meditation
How to chant a variety of mantras, the purpose and benefits of mantra and sound for your body, mind and spirit
Teaching Methodology
How to create a welcoming, sacred space for your class
Understand the different ways in which people learn in class in order to draw from various teaching methodologies
The art of sequencing a yoga class in order to create a safe, effective and balanced class plan
How to create class themes
How to sequence your class for the style you want to teach - Gentle, Beginners, Power, Vinyasa, Hot - and to the audience you have in mind
How to use verbal and visual cueing when teaching
How to make effective use of music and sound to match the pace of your class and intention of each phase

How to manage your class from beginning to end

How to teach with your authentic voice
Personal Development & Self Care
The importance of developing a daily personal yoga practice for self-assessment and customizing your plan and goals
Self-reflection and tools for personal growth using journaling, inquiry assignments, and integrating the Yamas & Niyamas of yoga limbs
How to apply Ayurvedic principles for living according to your dosha (constitution) with diet and with daily and seasonal self-care techniques such as massage, herbs, and relaxation

How to incorporate a plant-based diet to purify your body and mind, in order to support your yoga practice and integrate yoga philosophy (this includes meal planning and prep, dietician prepared recipes, food tasting, tools, videos, medical supported evidence relating food choices and chronic health issues)
Professional Development
How yoga Sutras relate to ethics of  your
practice and teaching professionally

The standard of professionalism as put forth by Yoga Alliance for Ethical Commitment

How to determine your type of business

How to identify your niche and ideal client

How to create your message to your ideal client

How to market and promote your classes

How to setup the legal and administrative aspects such as liability insurance, waivers and invoicing

How to determine your teaching venue and supply props for your class

The value of staying connected with your peers and trainer for momentum, support and for continuing education
Practice Teaching
Build off your experience of teaching your classmates the various components of a class: opening with AUM, warmups, pranayama, individual yoga poses, relaxation, meditation and closing with mantra
Draw from your experience of hosting your own 'friends & family' practicum class
Learn from your final practicum teaching experience of demonstrating the sequence that you created

How to build and access a library of class sequences available online 
How to use the feedback and suggestions from your mentor and peers

How to keep honing your skills with your accountability partner, peers and mentor

"I took classes at several studios in search of a teacher training program that felt "right." Nothing seemed to feel comfortable and authentic to me until I took a class with Navjit Kaur. Half way through that first class I suddenly knew I'd found my place. Navjit Kaur is genuine and professional, and she radiates all that is in the spirit of yoga. The program is thorough and demanding, and it presents fascinating, highly relevant material. The training has given me a solid foundation from which I can build my own practice and from which I can help facilitate the practice of others. This training has not only prepared me well to teach, but it has given me an entirely new perspective on myself and life. I can't recommend it enough!"

Jennifer Hubbard

March 2021 graduate

"Yoga and Tea Studio was my choice for teacher training over the last six months. I had the option of doing it internationally, but I am very, very happy that I chose your program. Navjit, thank you! I feel blessed to have met you. This program was a truly a life changing experience, in that, I was not well when I began, and I am now on a wonderful path toward wellness. I now understand why yogis do and say and eat certain things. Yoga can help to end pain and suffering and that this is just the beginning for me! Navjit gave us so much of her heart, passion, knowledge and energy! She is truly a great trainer for yoga teachers! Her level of knowledge is so deep and she gives us so much more than the curriculum. If you wish to become a yoga teacher, take Navjit's program. It is the very best!"

Elizabeth Hochster

March 2021 graduate

"My teacher training offered me so much more than what I signed up for. Navjit's expertise and experienced guidance made the program easier to follow and without a doubt more enjoyable. I loved her ways of teaching us a variety of subtleties associated with yogic lifestyle and tradition. Being able to study and practice meditation, nutritional information based on ayurvedic science and vegetarian principles was a great opportunity to transform from inside out. The yoga practices were great and the insights I got from the class helped me tremendously during a rough patch. I would recommend this program to anyone who would like to get a bit closer to the best version of themselves and who is looking to improve their life in multiple aspects!"

Gabrielle Beyrouti-Clée

March 2021 graduate

"I feel absolutely blessed to have had the opportunity to do my yoga teacher training with Navjit Kaur. I can't imagine there is anyone else with as much knowledge, passion and dedication. She shared her experience and expertise with us with such grace and in such detail. Navjit Kaur took the time needed to answer and explain all concepts. If only all teachers could have such patience! Such a clear and conscious delivery of the material. Each class, she pulled something new out to challenge us. I was given the tools to continue to grow, this was a one of a kind experience!"

Katherine Higgins

March 2021 graduate

"This YTT has been a life changing experience! I have learned what Yoga truly is. From history, philosophy, anatomy and Ayurveda to Asanas, I first and foremost learned about myself. This YTT has taught me that Yoga is a way to connect us, to melt away the separation within us, and with our loved ones and our community. This YTT will help you bridge the gap that exists in the yoga world today between yoga as an exercise and yoga as and integral part of your life."

Diane Gagnon

March 2021 graduate

"If you're looking for a yoga teacher training that goes way beyond asana instruction, this is a wonderful program! This program takes you on a deep dive into your own spiritual journey; Navjit Kaur asks her students not only to explore how and what they want to teach, but how they want to walk in this world. The material challenges students to face fears, understand what is blocking them from achieving their goals, and even to re-evaluate those goals and better understand the motivations behind them. It's tough work at times, but the Yogic philosophical instruction/exploration is excellent and well worth the effort."

Andrea Auer

April 2020 graduate

"Through this program, I learned the depth of the Yogic tradition through physical practices, meditation, reading texts, and in class teachings and discussions. Navjit Kaur is a remarkable teacher who has put together not only a valuable program, but also offers so much more with her vegan lunches, warm company, and thoughtful conversations. I loved having Navjit Kaur as my instructor - her perspective and teaching was a big impact from the program. I highly recommend this program to anyone seeking to blossom their inner yogi and learn how to teach at the same time. "

Motahareh Nabavi

April 2020 graduate

"Navjit Kaur is a very experienced, knowledgeable, professional and empathetic teacher, and a leader in our Yoga community. Learning the Hatha Yoga program through her Yoga and Tea Studio, has allowed me to become a very well rounded Yoga teacher. Knowledgeable of the Yoga History and the 8 Limbs and a caring, positive addition to the Yoga Community."

Cindy McConnell

April 2020 graduate

"This program allowed me to get the chance to meet likeminded people and foster a community like environment. I believe our friendship can go far. My biggest takeaway is Pranayama and Breath Technique because I look forward to apply that into my life."

Xiang Sun

April 2020 graduate

"I met some lovely new friends during the course. We bonded and helped support one another throughout the training. These are friends that I will cherish for a life time.
I loved the food!
This course and the support of fellow students has taught me that I do have confidence within myself to teach a great yoga class."

Nicky Benfield

April 2020 graduate

"Thorough introduction to Hatha yoga, in a warm intimate setting. I found the history of yoga incredibly interesting and also found the business practices useful. The unexpected takeaway for me was how people of many different backgrounds and stages of life can come together and support each other towards a common goal. "

Elizabeth Chatelain

April 2020 graduate

"When previously doing Yoga, I often felt physically unsafe! Until Navjit Kaur, I really had no idea just how integral the breath is when doing Yoga on and off the mat, a spiritual discipline and practice when breath-initiated in asana, meditation, mantra, is essential for the foundation for transformation. I am sincerely emboldened because I recognize how this has revolutionized my life...eternally grateful,...eternally blessed!"

Caroline Gibson

April 2020 graduate

"It is obvious that Navjit Kaur really cares about creating a yoga training program that is as authentic as possible. It really encompasses the true intention of yoga, and also connected us to mind, body and spirit. I left with a whole new understanding of the use of breath techniques. I really liked going through the yamas and nyamas, reflecting on my life and how to incorporate the principles. I loved the Ayurveda section and learning about my dosha and also the chakra section to gain better understanding of imbalances and outcomes."

Charlene Moysey

April 2020 graduate

"This program was very comprehensive and challenged me as a student to get out of my comfort zone. We were pushed to not only learn the material but apply it and develop a personal practice in the process. I can't lie the delicious lunches were such a bonus, I looked forward to them each week."

Danielle Belanger

April 2020 graduate

"I feel so grateful to have taken my yoga teacher training with Navjit Kaur. I grew as a person and learned so much about yoga history and philosophy. It is was a lovely and challenging journey, but I recommend it 100%. I will never forget this experience! "

Zelena van der Leeden

April 2020 graduate

"This was a great course for so many reasons. Learning so much about my own practice as well as yoga philosophy & spirituality. It is a very personal journey of growth and wellness. I would strongly recommend it to anyone trying to become more aware of the benefits of yoga as well as of themselves."

Sylvie Secours

March 2019 graduate

"I loved this course! I learned so much about myself and how to be my best self. I am now living a healthier lifestyle and am looking forward to my continued journey."

Grace Campbell

March 2019 graduate

"Right length & flow of a well constructed 200 hour yoga teacher training program, delivered during the weekday, was the perfect fit for my schedule and requirements."

Jenn Markey

March 2019 graduate

"This yoga training is for everyone, not just those who wish to teach. It is a way to reconnect with the important things in life and grow further as a human being."

Kathy Fischer

March 2019 graduate

"Navjit Kaur Sidhu is an exceptional teacher training instructor. The program was taught with grace and integrity. I understand what proper yoga is and will continue to learn yoga philosophy in the future. I loved the pace, the materials used and the consistent support from the trainer and my classmates. I will never forget the beautiful meals you prepared so lovingly. The program was extremely valuable and I am looking forward to continuing my knowledge of yoga. Thank you for guiding us through this incredible journey!"

Basia Pawlikowski

June 2018 graduate

"Taking the yoga teacher training at Yoga & Tea was a life-changing experience. Having practiced yoga for 15+ years, I always wanted to delve deeper and learn about not only the poses but the PHILOSOPHY. How to LIVE yoga. Navjit Kaur taught me how to link it all together: asanas, pranayama and meditation. The aspects I enjoyed most were philosophy, chakras, yoga poses and the food. I loved the holistic teaching. Navjit Kaur is pure, challenging and authentic. Thank you for this life changing journey!"

Kathy Kontogiannis

June 2018 graduate

"The 200hr HYTT program was an incredible experience covering a diverse range of subject matter and practical application. Navjit Kaur is incredibly knowledgeable, approachable and was supportive every step of the way. This was truly a life changing experience for me. Thank you so much for your guidance, dedication and kindness."

Julie Underwood

June 2018 graduate

"Super incredible journey of growth and self-discovery. The trainer (Navjit Kaur) was very open, great sense of humour, understanding, patient, knowledgeable and helpful. I loved learning about the yamas and niyamas and took quite a lot from this. I learned a lot about food, tried lots of new things and enjoyed lunchtime with friends in this program."

Megan Burn

June 2018 graduate

"So happy I signed up for this. Truly loved your program. Inviting yoga classes led by a professional and warm yoga teacher!"

Maggie Shannan

June 2018 graduate (Perth, ON)

"Navjit Kaur has an extensive knowledge and passion for yoga. Her enthusiasm is contagious. She added so many personal touches to the course and in choosing the training manuals. It would be difficult to find a better, more genuine and passionate teacher than Navjit to take this training from. She exemplifies the perfect (ultimate) yogi."

Deborah McDonald

June 2018 graduate (Ottawa, ON)

"I most enjoyed the yamas and niyamas, the morning yoga classes and learning the history of yoga."

Nayeer Kourany Salem

June 2018 graduate

"I really enjoyed the program and everything I learned. I enjoyed the people I was able to get to know well, learning about the power of the mind and breath as well as access to the whole gamut of healing the entire body and pain relief. It was a wonderful whole body training with physical, emotional and spiritual elements."

Margaret O'Reilly

June 2018 graduate

"If you're looking for an outstanding and thorough exploration of the Yogic Path, look no further! Yoga & Tea Studio and its generous and experienced leadership team provide a safe, educational and nurturing experience."

Alison Kurtz Stein

May 2016 graduate

"Navjit Kaur and Louise Murray are two of the most knowledgeable, dedicated and authentic yogis. Being able to learn this amazing gift of yoga has been such a blessing. I recommend their Hatha Yoga Teacher Training to anyone looking to find a deeper connection to themselves and to the divine. 5 stars! *****"

Lyssa Ryan

May 2016 graduate

"Great program which provided in-depth knowledge of all aspects of the yoga experience. I would definitely recommend this to anyone who wishes to obtain their certification."

Linda Collard

May 2016 graduate

"I would recommend this teacher training program. I find it thorough education of the theory and history behind yoga. Gives a solid foundation to begin on the pathway to teach yoga."

Jenny Fowler

May 2016 graduate

"I have already recommended the Yoga & Tea Studio teacher training program to several people who have expressed an interest in deepening their practice or teaching. I had high expectations going in as to the quality of education/preparation I would receive and the program met and/or surpassed them in all areas."

Cathy Walker

May 2014 graduate

"Much gratitude for the retreat-like setting and atmosphere of Yoga & Tea Studio, which was a great place to practice and learn yoga. Nice to get away from it all, just outside the city."

Pam Bhandarkar MacPhee

May 2014 graduate

"Worth every penny and every second of time spent. This was the most amazing thing that I have done for myself. This course will completely transform your practice and understanding of what it means to practice yoga."

Erin McCaw

May 2014 graduate
It's All in the Details...
This program will offer you a deeper understanding of this ancient practice, and give you many tools you can use on your mat and in your life!
Become a mindful and confident Hatha Yoga Practitioner & Teacher with this comprehensive yoga training program
Receive your certification to qualify for a 200hr RYT (Registered Yoga Teacher) designation with Yoga Alliance, enabling you to teach anywhere in the world
Train with our award-winning studio
Enjoy a low student to teacher ratio that will promote more individual attention and personal development
Learn at a comfortable pace with this 1 day a week program spread over 23 weeks (keep your weekends free!)
Gain knowledge from our lead trainer, an expert in their field and over 15 years of experience in health & wellness
Receive an official Tuition and Enrolment Certificate (T2202) for Tuition and Education Tax Credits for personal or business tax
Namaste!
My name is Navjit Kaur, and I'm the Lead Trainer (E-RYT 500) and creator of this program. I've had the honour of training people like you to become a yoga teacher since 2012. 
My approach in this training is to provide you with the necessary experience of being a student of yoga first, to develop your personal yoga practice at home, so that you can then authentically teach from what you know, and understand the essence of yoga by going your own wins and challenges both on the mat and off.

I'm a mom, wife, Professional Engineer and Yogipreneur, so I understand what it's like to be pulled in so many directions, and is why I love sharing how these ancient yoga philosophy and techniques help you to deal with modern day issues relating to stress, health and relationships. 

My students describe me as having a great sense of humour, as being approachable, caring, inspiring,  an effective communicator, and super organized. My goal is to make this program accessible to varying fitness levels, to provide introspection and growth, an opportunity for you to heal, and be challenged to excel through your perceived blocks. 

I'm also certified as a Food For Life Cooking Instructor, by the Physician's Committee for Responsible Medicine (PCRM), and integrate into the program how plant-based diets can help to prevent and reverse illness. You'll learn many self-care techniques in this program to decrease inflammation and pain from your body so that you can move with more ease and flexibility.

Since 2005, I've taught well over 5000 hours and continue to deepen my own personal practice and the art of teaching by taking continuing education.

Your journey within begins with taking this first step and I look forward to welcoming you on this path!

Navjit Kaur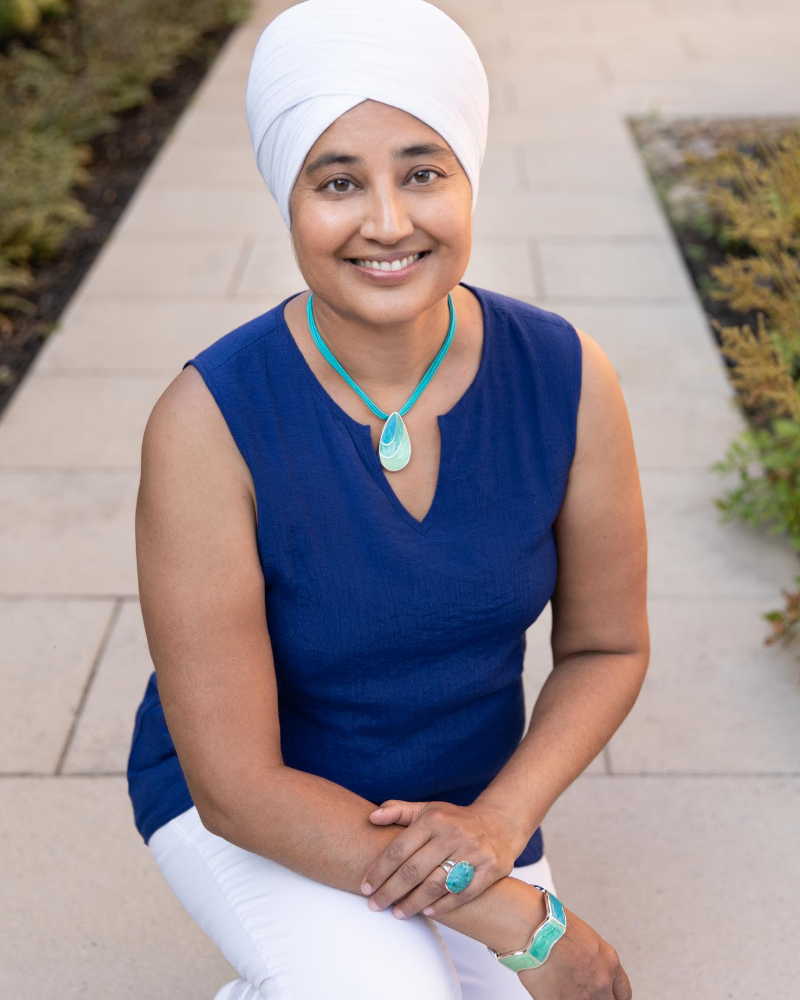 Registration is now open for our 200hr Hatha Yoga Teacher Training Program!
Sign up to get early access to the program as we start accepting students into our highly anticipated program. 
Training Schedule
January 19, 2023 - June 29, 2023
The training program takes place once a week on Thursdays, from January to June - so you can keep our weekends free! 
This schedule format allows you learn at a comfortable pace, and provides more time to assimilate the theory, put it into personal practice and come prepared for the next day of training with your questions and observations.
The daily schedule will be presentations on philosophy, history, anatomy, poses and include guided practices, demonstrations, hands-on teaching and partner/group work. 
Training Day & Time:
9:00am - 5:00pm, Thursdays
Daily Schedule:
| | |
| --- | --- |
| 9:00am-10:30am |  Yoga Practice  |
| 10:30am-11:00am |  Break |
| 11:00am - 12:30pm |  Lecture/Activity/Discussion |
| 12:30pm - 1:30pm |  Lunch Break |
| 1:30pm - 3:00pm |  Lecture/Activity/Discussion |
| 3:00pm-3:15pm | Break |
| 3:15pm - 5:00pm |  Lecture/Activity/Discussion |
Training Dates: Total of 23 days
January 19, 26
February 2, 9, 16, 23
March 2, 9, 23, 30 (no class March 16)
April 6, 13, 20, 27
May 4, 11, 18, 25
June 1, 8, 15, 22, 29
Training Curriculum
You will learn the following material during this training, in accordance with Yoga Alliance standards:
| | |
| --- | --- |
| Day 1    | Welcome & Intro to Yoga Fundamentals |
| Day 2 | History & Philosophy of Yoga |
| Day 3 | Yoga Anatomy - Koshas, Prana, Nadis, Chakras, Mudras, OM |
| Day 4 | Ayurveda - Food as Medicine |
| Day 5 | Ayurveda - Doshas, Daily & Seasonal Routines |
| Day 6 | Intro to Anatomy - Skeletal System (Bones, Joints, Spine) |
| Day 7 | Anatomy - Nervous System |
| Day 8 | Anatomy - Muscular System |
| Day 9 | Intro to Teaching Asanas (Postures) & Sequencing |
| Day 10 |  Teaching Seated Postures |
| Day 11 |  Teaching Table Postures |
| Day 12 |  Teaching Prone, Supine & Arm Balancing Postures |
| Day 13 |  Teaching Standing Postures |
| Day 14 |  Overview of Sun Salutation - Classical |
| Day 15 |  Overview of Sun Salutation A |
| Day 16 |  Overview of Sun Salutation B |
| Day 17 |  Meditation - Silent, Chanting, Focus on Object, Mala |
| Day 18 |  Intro to Chakras |
| Day 19 |  Overview of Patanjali Sutras |
| Day 20 |  Overview of Bhagavad Gita |
| Day 21 |  Business of Yoga |
| Day 22 | Exam / Art Project |
| Day 23  | Code of Ethics, Graduation |
Note: Exact timing of content and delivery may vary from shown
Certification Requirements for Graduation
Full attendance of all in-person training dates (up to 10% of the program can be missed due to travel or illness; otherwise, absence exceeding this allowable time will have to be made up and there may be an extra fee)
Successful completion of quizzes and homework assignments
Yoga class practicum taught to family and friends
Yoga class practicum taught to peers in the training
70% pass or above on the final exam
When You Enroll in Our 200hr Hatha Yoga Teacher Training
In this unique training you receive:
personalized attention in this low student to teacher ratio (10:1) class environment
experienced training from an instructor who has followed a yoga lifestyle for over 15 years
online office hours with your instructor to ask your questions and to get feedback
a course manual and all carefully curated books you'll need as resources for your yoga journey
recap quizzes after each module to ensure that you have understood the material and content
access to your own Google Classroom account to submit your homework assignments and read teacher feedback
access to music playlists and artist recommendations to build your music repertoire for teaching yoga
knowledge of tools to build your yoga class sequence and scripts
peer accountability groups
an understanding of how to teach as your authentic self
PLUS
These Bonuses You Won't Find Anywhere Else
for the most enjoyable and memorable learning experience:
Bonus #1:

Lunches Included
Yes, that's right! Let us take care of you - no need to figure out what to pack for lunch. That's 23 lunches taken care of!
Enjoy whole food, plant-based meals
Includes recipes for each meal
Experience a broad range of cuisine from around the world
Have some food allergies? Mention it on the in-take form and we can accommodate
Bonus #2: Lifetime Access
You will have lifetime access to our invaluable training membership site, where you can view these incredible resources:
Recordings of yoga class sessions
Yoga class sequence pdfs
Recordings of how to teach individual yoga poses and warmups
Review of some course content
Recordings of office hours
Quizzes
Module summaries
Homework assignments
Music playlists
Recommended tools and resources
Bonus #3: Yoga Self-Care Kit
You'll be learning yogic self-care routines in this training, so we've included these essential body-mind goodies for you:
a natural bristle body brush
an ayurvedic blend massage oil
an ayurvedic spice blend
a meditation mala
Bonus #4: Trainee Discounts
Get 15% off all items* in our store, while you're a trainee in this program!
Stock up your yoga practice space with:
yoga accessories (mats, blocks, bolsters, cushions, blankets, eye pillows, etc)
books, CDs, diffusers, candles, artwork
ayurvedic products (oils, spice blends, herbs)
massage tools (*except MELT products)
Bonus #5: Yoga & Tea Swag Bag
Time to represent! Receive these awesome branded items:
Y&T tote bag
Y&T travel mug (hot/cold)
Y&T pen
and a complimentary 20 Flexible Class Pass! 
Save Your Spot & Get All The Above Bonuses!
Choose A Payment Option Below:
Extra Bonus! Available only until December 1 
Receive the Five-Minute Journal ($45 value) for a mindset shift our trainees rave about!
Questions Your Fellow Peers Asked
Before Signing Up For This Training
(1 hr)

Info Session (in-person) about Yoga Teacher Training

View more

(1 hr)

Info Session (online via Zoom) about Yoga Teacher Training

Learn more about our upcoming Yoga Teacher Training Programs!

Ask your questions
Meet the lead trainer


View more

(1 hr)

Info Session (online via Zoom) about Yoga Teacher Training

Learn more about our upcoming Yoga Teacher Training Programs!

Ask your questions
Meet the lead trainer


View more
Stay In Touch! Join Our Mailing List
Sign up below to receive updates about this training & upcoming info sessions
We hate spam too. Unsubscribe at any time.