JOIN THE WAITLIST FOR
60hr Restorative Yoga 
Teacher Training
The most comprehensive program for understanding the philosophy and principles of Restorative Yoga
This training develops your own personal yoga practice and lifestyle so that you can create and deliver amazing class sequences as a teacher.
Ottawa 60hr Restorative Yoga Teacher Training Program
Part-time Weekday, Live Online Virtual Training
COVID-19 UPDATE:
Depending on Covid restrictions in place, this training may be offered LIVE online via Zoom and once COVID-19 health risks are over and we can safely resume as normal, you will have the option to continue online or move to in-person training at the studio or other designated location.

A kick-off meeting will be scheduled to ensure that all students are properly setup with audio/video/ergonomics for online learning via Zoom.

This hybrid training model has been approved by Yoga Alliance
Our life-changing program is a right fit if you are:
interested in understanding the key fundamentals of Restorative Yoga in order to develop your own personal practice
planning to teach Restorative Yoga and want to develop your mindset, teaching skillset and business acumen so that you can share your passion with your community
seeking proper certification in Restorative Yoga with a recognized Yoga Alliance approved program
looking to take Continuing Education Credits with an experienced lead trainer who is an Yoga Alliance Continuing Education Provider (YACEP)
interested in reviewing your lifestyle and integrating health-promoting habits for a transformational  way of being
ready to live your best life and inspire others to do so as well!
By the End of This Program,
you will know:
History & Philosophy
An overview of the origin & philosophy of Restorative yoga

The definition of yoga, Restorative yoga and how it compares to other styles of yoga

Understand the r

elationship between




asana (poses), pranayama (breath techniques) and 

meditation



Anatomy & Physiology
The anatomy basics of Restorative yoga
How Restorative yoga addresses the body 
The role of Restorative yoga as the antidote to stress and its impact on the nervous system 


Restorative yoga for recovery and and healing 
Yoga Anatomy
The subtle anatomy of Restorative yoga
Yogic anatomy and physiology (koshas, kundalini, prana, vayus, chakras)
Various breathing techniques (pranayama) and the effect of breath on anatomy and subtle body


How to practice and teach Restorative poses integrating 

pranayama techniques such as Long Deep Breathing & Ujjayi  Breath 

How to assess energetic needs and apply appropriate techniques
Yoga Asana (Poses)
How to practice and teach over 25 key Restorative yoga poses

How to practice and teach each pose safely by providing alignment cues, modifications and integrating with breath
How to use counter poses when coming out of a Restorative pose
How to use the variety of props (blankets, blocks, bolsters, eye pillow, sandbags, straps, wraps, etc) to make poses accessible to differently abled bodies, and how to work with injuries
The proper alignment principles of Restorative yoga poses, contraindications and how to prevent injuries
How to categorize poses into the key asana groups and understand their use

How to analyze poses to understand their anatomical, psychological and energetic benefits




How to assess your own needs and those of your class attendees when it comes to practicing Restorative yoga
Meditation
How to explain the purpose and benefits of meditation
How to integrate visualizations into the poses 
How to setup and prepare for meditation
The use of breath, eye focus and mudras for meditation
How to practice a variety of meditations using silence, with and without mantra

How to develop your own meditation practice
How to effectively teach meditation
How to use a variety of mantras, the purpose and benefits of mantra and sound for your body, mind and spirit
Teaching Methodology
How to create a welcoming, sacred space for your class

The language of Restorative Yoga (teacher cueing, student self-awareness, how to set intention and allow for inner work, the difference between teaching Restorative yoga and other styles of yoga)


How to use the practice of Yoga Nidra, and develop scripts to guide your class into a deep relaxation

The art of sequencing a Restorative yoga class in order to create a safe, effective and balanced class plan
How to create class themes for the season, to target specific areas of the body, and health issues
How to sequence your class for the audience you have in mind
How to use verbal and visual cueing when teaching
How to make effective use of music,  sound and silence in your class depending on the intention of the practice

How to manage your class from beginning to end

How to find, develop and teach with your authentic voice
Personal Development & Self Care
Strategies for developing a daily personal yoga practice for self-assessment and customizing your plan and goals
Self-reflection and tools for personal growth using journaling & assignments relevant to the topics covered each class
How to layer the practice with intent, observation and enhance your ability to letting go of stress and tension
How to use Restorative poses and sequences to deal with headaches, digestive issues, and anxiety and other ailments

How to improve your overall health using the "Foods that Fight That Pain Program" by Physicians Committee for Responsible Medicine:

Understand the role that food, digestion and elimination have in physical and mental health

Using foods against injury and irritation

Foods and nerve function

Boosting pain resistance
Professional Development
How to convey the features and benefits of Restorative yoga to your audience

How to identify your niche and ideal client

How to create your message to your ideal client

How to market and promote your classes

How to stock your home practice space and/or studio with the necessary props 

How to work 1:1  with private clients

The value of staying connected with your peers and trainer for momentum, support and for continuing education
Practice Teaching
How to feel competent and confident from your experience of teaching your classmates the various components of a class: opening with mantra, pranayama, individual yoga poses, relaxation, meditation and closing with mantra
Draw from your experience of hosting your own 'friends & family' practicum class

How to  create your class sequences and have access to our library of class sequences available online 
How to use the feedback and suggestions from your mentor and peers

How to keep honing your skills with your accountability partner, peers and mentor

It's All in the Details...
This program will give you a deeper appreciation of this much-needed yoga practice, and explain why it compliments other active yoga practices!
Become a competent and confident Restorative Yoga Practitioner & Teacher with this comprehensive yoga training program
Receive your certification to qualify for Continuing Education Credits (CEU) with Yoga Alliance, enabling you to work your way towards the 500hr RYT certification
Train with our award-winning studio
Enjoy a low student to teacher ratio that will promote more individual attention and personal development
Learn at a comfortable pace with this 1 day a week program spread over 8 weeks (keep your weekends free!)
Train with our knowledgeable lead trainer, an expert in their field and over 15 years of experience in health & wellness
Receive an official Tuition and Enrolment Certificate (T2202) for Tuition and Education Tax Credits for personal income tax
Namaste!
My name is Navjit Kaur, and I'm the Lead Trainer (E-RYT 500, YACEP) and creator of this program. I've had the honour of training people like you to become a yoga teacher since 2012. 
My approach in this training is to provide you with the necessary experience of being a student of yoga first, to develop your personal yoga practice at home, so that you can then authentically teach from what you know, and understand the essence of yoga by going your own wins and challenges both on the mat and off.

I'm a mom, wife, Professional Engineer and Yogipreneur, so I understand what it's like to be pulled in so many directions, and is why I love sharing how the practice of yoga helps you to deal with modern day issues relating to stress, health and relationships. 

My students describe me as having a great sense of humour, as being approachable, caring, inspiring,  an effective communicator, and super organized. My goal is to make this program accessible to varying fitness levels, to provide introspection and growth, an opportunity for you to heal, and be challenged to excel through your perceived blocks. 

I'm also certified as a Food For Life Cooking Instructor, by the Physician's Committee for Responsible Medicine (PCRM), and integrate into the program how plant-based diets can help to prevent and reverse illness. You'll learn many self-care techniques in this program to decrease inflammation and pain from your body so that you can move with more ease and flexibility.

Since 2005, I've taught well over 5000 hours and continue to deepen my own personal practice and the art of teaching by taking continuing education.

Your journey within begins with taking this first step and I look forward to welcoming you on this path!

Navjit Kaur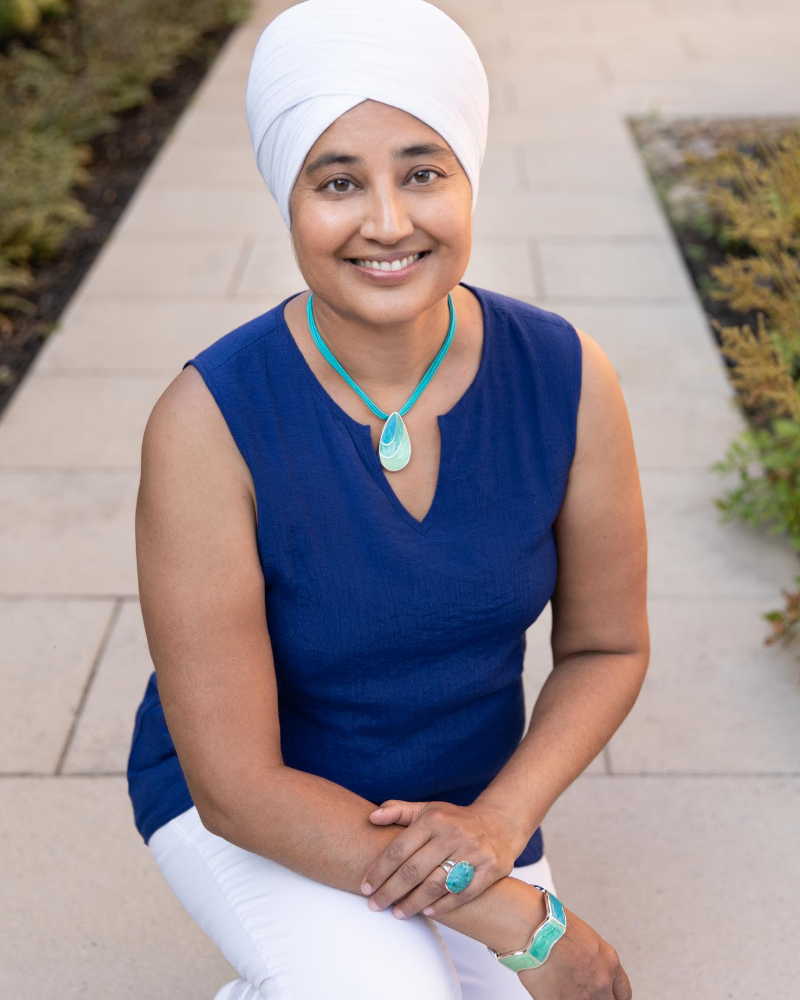 Be the first to know when registration opens up for our 60hr Restorative Yoga Teacher Training Program!
You'll receive email alerts for special bonus offers and be notified as soon as we start accepting students into our highly anticipated program. 
"In each pose, there should be repose."
- B.K.S. Iyengar